Training Camps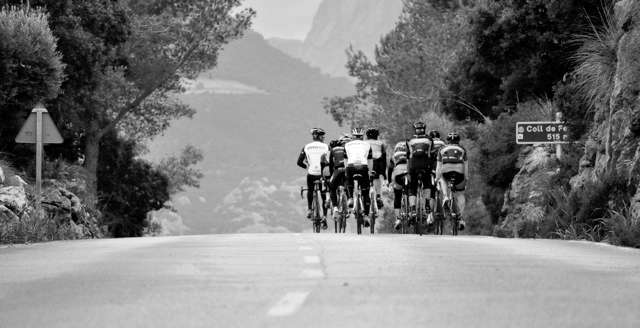 Pre-season performance training camp professionally guided and supported in the Serra de Tramuntana Mountains of Northern Majorca.
Richard works with GPM10 to run a training camp in March each year. The camp takes place in Mallorca, which most people agree is an amazing place to ride – it's no coincidence that many pro teams also have their training camps there.
Most training camps are great fun, and allow the rider to do a large block of miles, usually alongside friends/club mates. Possible pitfalls of the classic camp are overtraining, especially during the first day, and rides becoming too competitive, as riders continually try to outdo one another (we've all done it!).
Richard's idea for the training camp is a simple one – keep the fun element and make sure everybody has a wonderful experience. In addition to this, give the week a structure that will allow the whole group to go home better than when they arrived. In order to do this Richard does 2 things:
The routes are structured to avoid the typical "day 1 tear up". The week is put together to gradually increase the workload, but also to allow sufficient recovery so you won't get back home feeling completely wiped out.
Richard does the rides with the group. This allows him to give feedback and advice whilst on the bike. It also means he can control the pace of the group to allow everybody to get the best ride. Basically he's the nagging school teacher, holding the group back at some points, and letting everybody go full gas when it's time!
During the camp Richard also makes sure riders are debriefed at the end of each ride, and is available for a limited amount of 1-1 time on request.
Richard's training camps are not purely aimed at racing cyclists, but they are definitely business like – you're there to enjoy the riding and to improve.
If you'd like to find out more, please contact Richard or keep an eye on the News sections for updates.
What you get.
Fully supported rides – everything is taken care of, from lunch to mechanical support. You just get on your bike and ride!
All rides are planned to allow maximum benefit as standalone rides, and from the week as a whole.
Full coaching support during each ride, including feedback on technique or position where relevant, and clear guidelines on where to back off…and where to go hard!
Full debrief and summary after each ride, with group feedback from Richard, before outlining the following day's ride. You will know what you're doing and why you're doing it.
Limited amount of 1-1 time with Richard available on request.
Structured seminars, again on request, where Richard will cover certain topics or take a group Q&A session.